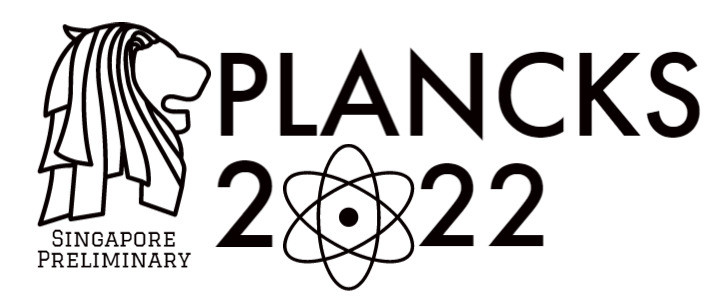 The PLANCKS (Physics League Across Numerous Countries for Kick-Ass Students) 2022 Singapore Preliminary took place on the 19th and 20th of February 2022 in the School of Physical and Mathematical Sciences (SPMS), Nanyang Technological University, Singapore.
PLANCKS is an international, annual theoretical physics competition where teams of 3-4 Bachelor's and Master's students compete to solve 10 challenging physics problems in a stipulated time duration of 4 hours. The 2022 international edition of PLANCKS will take place from the 5th to 8th of May 2022 in Munich, organised by the Faculty of Physics of the LMU Munich and hosted by the DPG (German Physical Society) as a member of IAPS (International Association of Physics Students).
The Singapore Preliminary was organised by the Odyssey Programme, under the School of Physical and Mathematical Sciences. In a first-time collaboration, the Singapore Preliminary was held jointly with the UK & Ireland PLANCKS Preliminary, where participants of the two preliminaries shared the same question paper, comprising of questions contributed by members of both countries.
In total, 24 students from 6 teams participated in this year's competition. Over the two-day event, participants had the opportunity to engage in a line-up of exciting and intellectually stimulating activities, ranging from guest lectures on various topics in physics to the pivotal 4-hour problem solving session.
The top prize for the 2022 Singapore Preliminary went to Team V6, comprising of Teo Hau Tian, Chai Siao Yang, Tiang Bi Hong, and Gupta Chaitanya. They will be representing Singapore in the 2022 international PLANCKS competition in Munich later this year.
Second Place was awarded to Chung Jia Hui, Ng Jing Yang, Zhang Nuo Ya and Wong Cheng Yi from Team Led Zeppelin.
A tie in the scores saw the Third Place being jointly awarded to Team MechSpicy, consisting of Jhuan Christian, Law Yi Khing, Deng FeiFan and Dyah Ayu Nurun Nafisah as well as Team Fish With Chips, consisting of Li Yi Fei, Randy Tan, Tan Fei and Stephen Natanael Basatua.
Members of the winning team, Team V6 shared their thoughts and experiences at this year's PLANCKS Singapore Preliminary.
"This event not only provides us with a platform to think critically, creatively on challenging physics problems, but also allows team discussions while solving the questions. Compared to other competitions, this team-based competition enables us to exchange new ideas and to approach the questions from a totally different perspective. There was an idea that enlightened me during this marvellous event, which was really the icing on the cake," says Teo Hau Tian.
Tiang Bi Hong said: "The question set reminded us to always revise the most basic stuff, which is good practice in academia. The team competition format also allowed us to discuss with friends when we encountered difficulties in solving the problems. This event also included two fascinating talks by Prof Chong and Prof Chew. Overall, it was a great experience to take part in PLANCKS Preliminary 2022."
Chai Siao Yang said: "Glad to see that so many physics students sharing the passion for the art of problem-solving took part in this competition. It was a great opportunity for us to brainstorm together and generate valuable insights in the process. It was undeniably a humbling yet inspiring experience for us as the questions challenged us to revisit our foundational knowledge of physics (classical mechanics, thermal physics, electromagnetism, etc.) and think upon their many creative applications in exciting hypothetical scenarios (how about moving a solar system away just by constructing a giant parabolic reflecting mirror?)."
"The competition gave us the opportunity to participate in intellectually stimulating problem solving. Though, we were flabbergasted by discovering that solely first- and second-year topics were tested in the competition, solving the problems was no elementary task. Moreover, the idea that the participants were solving problems while being aboard a spaceship was quite creative. It made the competition more enjoyable," says Gupta Chaitanya.
Congratulations to all the winners and wishing all the best to Team V6 in the upcoming international PLANCKS!